Archive for NC Senate race
There are a lot of self-described patriots in this country who really don't much like this country. (I mean the real one, not their imaginary one.) Jon Stewart pointed out how the gun-toting militiamen surrounding Cliven "I don't recognize the United States government as even existing" Bundy could at least have created their own flag instead of waving the flag of the government they don't recognize.
North Carolina Republican candidate for U.S. Senate, Dr. Greg Brannon, may or may not be a self-described patriot, but he's endorsed by Tea Party Patriots (of the Bundy kind?). He's quoted as saying this about discussing guns after the Sandy Hook shootings:

"Senator Hagan says we got to have a nice debate and discussion (about gun control) about what to do. See that's called a democracy which is actually socialism which is called majority rule."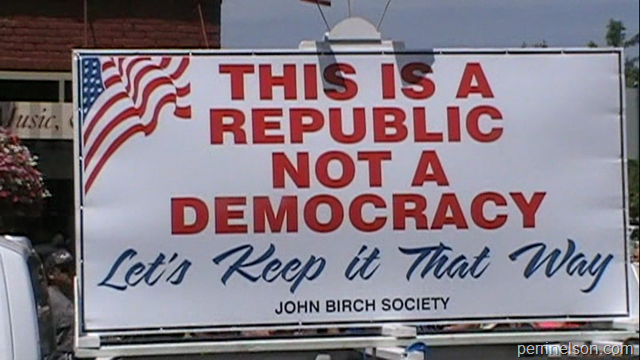 Perhaps Brannon napped through civics class? He doesn't seem to approve of democracy, of majority rule, yet he's hoping to be elected to the United States Senate by a majority. Because that's how elections work in the real America. How they work in the Tea Party's fantasy one is anybody's guess.
Certain fringe types love to correct you if you call America a democracy. It's a republic, non-elite patriots insist as pedantically as condescendingly. Perhaps because republic sounds like Republican, and because that word has better mouth feel than anything sounding like Democrat. But for your Bircher, as the sign suggests, it's more than that. Democracy isn't just majority rule; it's mob rule. And, oh, they fear it.