Archive for NC Governor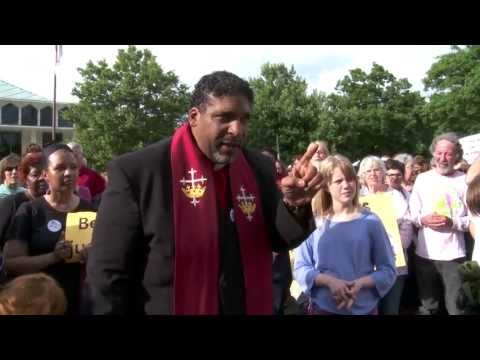 A century and a half after the Civil War ended, the GOP-dominated North Carolina legislature is finishing the destruction Gen. Sherman's troops never got to visit upon Raleigh, NC. Over 150 people have been arrested at the Legislative Building in four weeks of protests led by the NAACP. A crowd of 600 gathered last week for the latest Moral Mondays protest against a flood of conservative legislation targeting the poor and minority voters.
A few short years after Barack Obama won the state's electoral votes, Republicans are firmly in control of the legislature and the Governor's Mansion. They are busily unmaking the American Century in what has been one of the South's most progressive states. The Washington Post calls it "a sweeping conservative agenda":
Legislators have slashed jobless benefits. They have also repealed a tax credit that supplemented the wages of low-income people, while moving to eliminate the estate tax. They have voted against expanding Medicaid to comply with the 2010 federal health-care law. The expansion would have added 500,000 poor North Carolinians to the Medicaid rolls.