Archive for Religion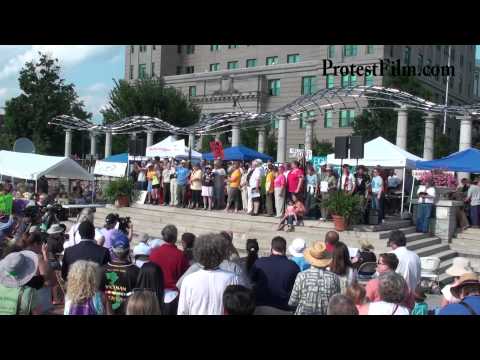 With the North Carolina state legislature in recess, Moral Mondays – the Forward Together Movement – began a march across the state, starting in Asheville on August 5 with the largest protest yet. The crowd "well exceeded" the 5,000 the Asheville police department had prepared for, with early police estimates to 10,000.
"You can't do wrong in Raleigh and then hide back home," said NC NAACP president the Rev. William Barber. Firing up the crowd as he has in Raleigh, Barber condemned the actions of the state legislature as "constitutionally inconsistent, morally indefensible and economically insane." Barber and other speakers called out local and state legislators by name, some of whom were in the crowd.
"From the mountains to the coast, we're sick of this mess," Barber declared. "This is no momentary hyperventilation or liberal screaming match; this is a movement. We have a governor that has decided to be on the wrong side of history. We have a legislature that is bragging and boasting about its power and is legislating on the basis of lies and discrimination. Though they have temporary power, the future does not belong to them."
Barber and other speakers addressed education, labor, LGBT rights and a bill seizing the local water system. Asheville local, Heather Rayburn, spoke surrounded with a group of other civil disobedience protestors arrested in Raleigh. Keeping with the moral theme, Rayburn reminded the crowd, "This group of jailbirds and I believe in the Golden Rule. That we should treat people the way we would want to be treated. And politicians should live by the Golden rule too."
(Cross-posted from Crooks and Liars.)