Archive for Action
Still recovering from an electrifying conference in Detroit. Wanted to post this.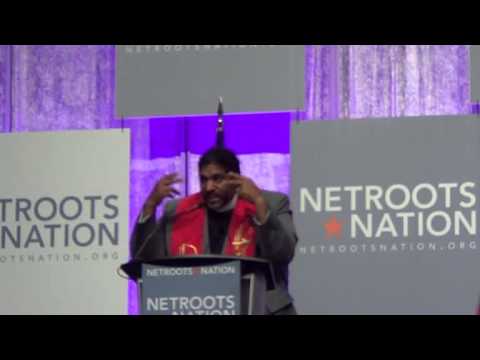 Rev. William Barber from the Forward Together movement spoke for an hour on Thursday night and wowed the Netroots Nation audience. It was many people's first exposure to Rev. Barber, and it was all anyone could talk about on Friday morning. And least one person said it was the best speech they had ever heard live.
Barber drew energy from the crowd. He talked at one point about how, to get out of the wilderness, you don't go down into the valley. There are snakes down there! Instead, he said, you make for the ridge tops.
From his telling, there is a climatic effect, an elevation above which snakes don't go. Our politics, Barber said, have got to "rise above the snake line." By the next morning, you could buy Rise above the snake line buttons in the exhibit hall with the coiled Tea Party snake below the line on the lower half.
He seemed to be enjoying himself, and was much lighter on his feet by the end of this speech even bouncing a little bit.