Snowball's Chance in Raleigh
By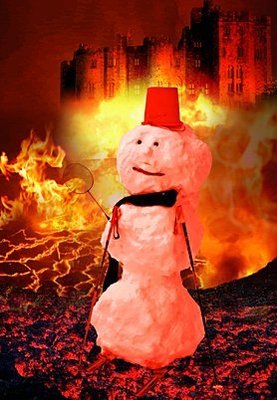 The Editors at the Asheville Citizen-Times wrote an incisive, constructive piece in Friday's paper. Please go read the whole thing. Here are a few excerpts:
There's undoubtedly a measure of partisan power-grabbing in the Republican-dominated General Assembly's campaign to limit the power of cities, given that the state's major cities have Democrats at the helm.
[…]
After taking Asheville's airport and the WNC Agriculture Center last year, Republicans introduced bills to take away Asheville's water system, Charlotte's airport and Raleigh's lease on the old Dorothea Dix property, which it wants to turn into a city park.

Other bills would end the franchise and business privilege license taxes, costing cities statewide millions in revenue, eliminate cities' extraterritorial jurisdiction, which allows them to control growth on their borders, and limit their ability to require homebuilders to adhere to design standards.

These bills follow laws enacted last year that significantly restrict cities' ability to grow through annexation.
[…]
Given the climate in the legislature these days, Rep. Nathan Ramsey, R-Buncombe, is undoubtedly right when he says a bill to expand the options cities and counties have for raising revenue doesn't have a "snowball's chance in Raleigh" of passing, which he says is the reason he hasn't proposed such legislation.
[…]
Republicans, who have long opposed big government, should embrace the idea that such decisions are best made by elected officials who are directly accountable to those affected.
[…]
Still, it's hard to comprehend why lawmakers would tie the hands of local elected officials but give taxing authority to an unelected board, which the Republican bill that would take Asheville's water system would give a regional water and sewer authority.