Partisan Voting Controversy Live Blogging
By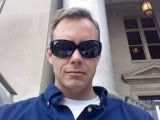 With strains of Billy Joel's "We Didn't Start the Fire" blaring into the empty green at City County Plaza, I'm wondering if opponents of the partisan election scheme are limited to Carl Mumpower, Joe Dunn, and Tim Peck. The reporters outnumber the attendees at this early hour (6:41), though Big Joe Dunn is supposed to get up and get his oration on at 7pm.
Carl Mumpower is being interviewed right next to me, but I can't hear a word because he's a terminally low talker.
If you're coming in late to this controversy, here's the skinny:
Holly Jones, Brownie Newman, Robin Cape, and Bryan Freeborn voted to make our city council elections partisan affairs beginning this year. Their initial argument was that putting a (D) or and (R) next to a candidate's name gives the voter much more information about that candidate. Further, city council elections were decidedly partisan until 1994 when the rules were changed to encourage more third-party and minority candidates. Since that time no third party candidates have been elected and only one minority winner, our current mayor, Terry Bellamy.
On the other side are Tim Peck, founder of Let Asheville Vote, who argues that the council restricts participation by requiring that minority party candidates get 2,000 signatures of registered Asheville voters in order to appear on the ballot.
But, honest to Jeebus, there are no more than 20 people at this rally, and 5 of them are reporters. It's sad. A dude was doing his karoake best to provide us an Elvis impersonation – and it was completely fucking awful. Sorry, but it was. Painful.
——–
(7:15) Carl Mumpower mumbled his way through some comments, and the dozen in attendance cheered. Jan Davis, a Democrat, came out and said that he didn't feel the partisan election scheme was the way the Democratic Party ought to act. Joe Dunn, former councilman and mayoral candidate last go 'round, told the crowd that partisan elections are a way of saying, "You Don't Count." He says the proponents want to run the city the way they want to run it.
——–
(7:23) Some guy ( I think he's a Republican Party officer) is saying that the proponents of partisan elections have a hidden agenda. He's bashing the Fearsome Foursome for ramrodding the measure through. "We have 56,513 registered voters…Can this be correct?" He explains that they need 5,651 folks to sign the petition to stop the partisan elections from going forward. The petition would put the partisan election question to a referendum in November.
Matt Mittan is jauntily curb leaning, waiting his turn to fire up the dozen and a half people attending the big rally.
———
Overheard:
"Partisan elections pave the way for us to have instant runoff voting and will prevent vote splitting like what happened in 2005, and what I'm talking about is how Carl Mumpower was able to win only because most Democrats split their votes between Freeborn and Pelly" – David Roat
———-
(7:36) Matt Mittan is getting righteous:
"They made a great misjudgement"
…
"They made the mistake of thinking that you care more about getting to Shindig on the Green than you care about fair and open elections."
…
"People are sick and tired of partisan politics."
The Let Asheville Vote crowd is generally saying that the partisan election move limits choices and limits access.
Proponents argue that the process:
– is already tacitly partisan
– allows unaffiliated or third party candidates the opportunity to bypass a primary, instead collecting 2,200 signatures
– means that unaffiliated candidates, if they're able to get their signatures and garner at least 4% of the vote in the general election, will not have to repeat the process.
– is more transparent
– will bring Instant Runoff Voting
There's still fewer than two dozen attendees. Rumor has it that the petition drive has around a thousand signatures, well short of what they need. Unless something strange happens, it looks like we'll have partisan elections in November.
This is Screwy Hoolie, signing off.