Mumpower Army: Stamping Out Hippies Wherever We Go
By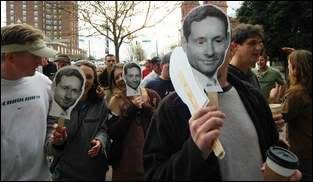 {pic credit – Jason Sandford AC-T}
The ever-present Asheville Citizen-Times caught some Ashevillains mocking the Mump down at the Widespread Panic show tonight. That's funny.
Excerpt: "As doors opened at 7 p.m., concert-goers streamed in as Asheville residents Gordon Smith and James Lewis handed out Mumpower masks. Lewis made the masks mocking Mumpower and his stance."
Scrutiny Hooligans applaud Councilman Mumpower when he goes after crackheads, but when he goes after young people who pay money to see rock concerts in our city, Hooligans draw an irreverent line. Councilman Mumpower – Leave those kids alone.
Citizen-Times Video Diva serves up the multimedia here.
UPDATE: AC-T reporter Adam Behsudi has more – "Carl Mumpower wasn't hard to spot during Friday night's Widespread Panic show at the Civic Center.
Hundreds of concertgoers held up cutout masks of the city councilman who attended to observe what he considers a drug hot spot during large concerts."
UPDATE: The latest version of the story is here. No fun masks in this one, but Councilman Mumpower expresses his satisfaction with the twenty police officers and drug dogs who made four arrests in the crowd of 6,600.